"Some lines are horizontal and some are vertical what design is hidden behind these lines we should have creative eye. Someone walks and someone talks and someone flies, all motions can be shown through design but to judge all these motions we should have creative eye. Behind your all efforts to search and to create a design, we are with you. Leave your worries how to define ? Knock on the one door in the field of design which is flying high we lead to you there which is known as Caracal Eye."
Caracal Eye® is creative multimedia and IT company who specialize in the Web , Application, Software, Graphics, Games etc. Design and Development, Animation and Film making fields. The company with its dedicated team of experienced designers & Developers, has created a niche for itself in the field of IT & Multimedia.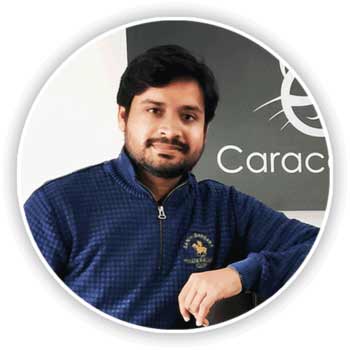 In this technological era, the role of the IT sector is equally important, which we are always eager to fulfill. CaracalEye® has fulfilled the dreams of many organizations for development, promotion, and branding, and is committed to doing better in the future. Our mission is to make an active contribution to the development of the nation by technologically empowering society.
UTKARSH BHATT
CEO & Founder of CaracalEye®
There is great satisfaction in knowing that you've done your job well and served your clients' interests. It also gives us motivation when our clients take the time to acknowledge their expectation by providing with their testimonials.